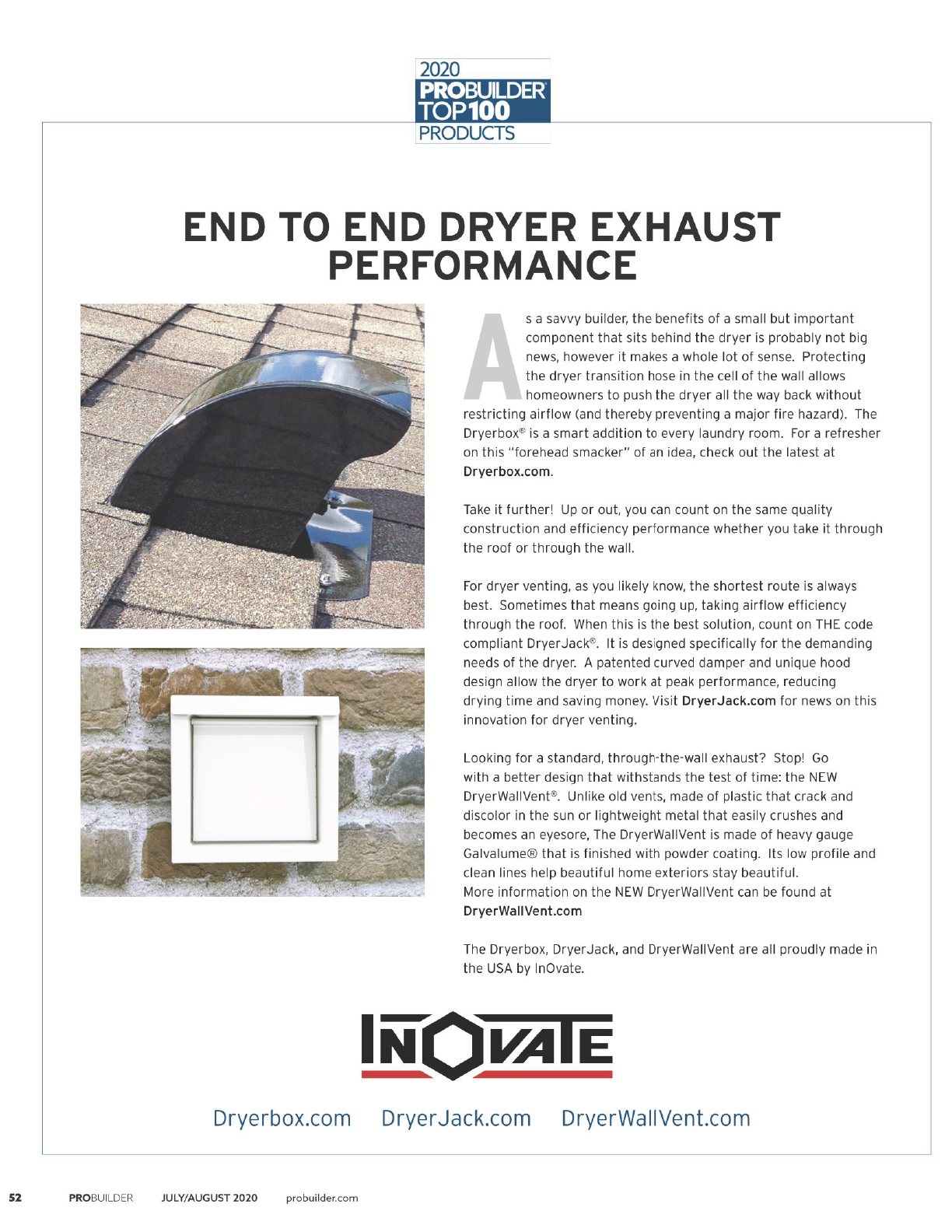 As a savvy builder, the benefits of a small but important component that sits behind the dryer is probably not big news, however it makes a whole lot of sense. Protecting the dryer transition hose in the cell of the wall allows homeowners to push the dryer all the way back without restricting airflow (and thereby preventing a major fire hazard). The Dryerbox® is a smart addition to every laundry room. For a refresher on this "forehead smacker" of an idea, check out the latest at Dryerbox.com.
Take it further! Up or out, you can count on the same quality construction and efficiency performance whether you take it through the roof or through the wall.
For dryer venting, as you likely know, the shortest route is always best. Sometimes that means going up , taking airflow efficiency through the roof. When this is the best solution, count on THE code compliant Dryer Jack® . It is designed specifically for the demanding needs of the dryer. A patented curved damper and unique hood design allow the dryer to work at peak performance, reducing drying time and saving money. Visit Dryer Jack.com for news on this innovation for dryer venting.
Looking for a standard, through-the-wall exhaust? Stop! Go with a better design that withstands the test of time: the NEW DryerWallVent®. Unlike old vents, made of plastic that crack and discolor in the sun or lightweight metal that easily crushes and becomes an eyesore, The DryerWallVent is made of heavy gauge Galvalume® that is finished with powder coating. Its low profile and clean lines help beautiful home exteriors stay beautiful. More information on the NEW DryerWallVent can be found at DryerWallVent.com
The Dryerbox, DryerJack, and DryerWallVent are all proudly made in the USA by InOvate.