New Code Prohibits Dryer Terminations that do not maintain 12.5 sq inches of area
New Building Code
M1502.3.1 Exhaust termination outlet and passageway size.
The passageway of dryer exhaust duct terminals shall be undiminished in size and shall provide an open area of not less than 12.5 square inches (8,065 sq mm).
View the code at
International Code
Council's website
.
Area = 3.14159 X Radius Squared
12.57 = 3.14159 X 4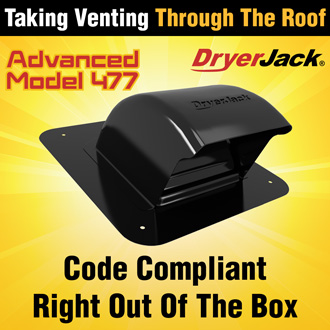 In an effort to prevent the use of airflow restrictive terminations in dryer exhaust systems, a new building code has been approved that prohibits the use of wall vents and roof jacks that exhibit a passageway that does not maintain at least 12.5 square inches of area. Why is this important? Terminations with a passageway area less than that of the ducting can reduce energy efficiency and create back pressure - accelerating buildup.
The new code will require that the conduit through the termination hood NOT diminish in size. It has to maintain at least the 12 and a half square inches of area that 4" round pipe provides (the area of a circle is calculated by multiplying π—3.14159—by the radius squared). This important code change will require close attention to which termination is chosen for the dryer exhaust system. Today, there is one roof termination that meets (and exceeds) these requirements: the DryerJack®.
Exceeding Requirements
In order to provide superior airflow efficiency, the DryerJack is built with a passageway that actually increases in size. This increase in area during the redirection of airflow is unique to the DryerJack models, and it is one of several factors that deliver the remarkable airflow performance. While code only restricts the passageway area to maintain 12 and a half square inches, the DryerJack Model 477 reveals its smallest slice of the passageway of 21 square inches and Model 486 an area of 18.72 square inches.
Termination Hood

Width

Height

Sq. In.

Sq. In. Growth

% Growth

4" Round Pipe

3.14159 (π) X 4"

12.57"

4" Typ Gooseneck*

4"

2.25"

9"

-3.56

-28%

Broan*

5.25"

2"

10.5"

-2.06

-16%

Duraflo*

5.5"

2.12"

11.66"

-0.9

-7%

DryerJack DJK477

6"

3.5"

21"

8.44

67%

DryerJack DJK486

6"

3.12"

18.72"

6.16

49%
* Should never be used for dryer exhaust systems.
Measurements are taken from the most restrictive part of the passageway in the chart.
Throughout the country the use of legacy non-compliant vent caps is extensive. As the code is widely becoming adopted, familiar roof and wall-vent caps will be disallowed. The DryerJack is your code compliant choice.